Carmen M. Reinhart and Kenneth S. Rogoff presented a paper titled "Shifting Mandates: The Federal Reserve's First Centennial" at a meeting of the American Economic Association on January 5. In it, they observe:
Whatever the mandates of the Federal Reserve, it is clear that the evolution of the price level in the United States is dominated by the abandonment of the gold standard in 1933 and the adoption of fiat money subsequently. One hundred years after its creation, consumer prices are about 30 times higher than what they were in 1913.
And here's a graph they present to illustrate what that looks like: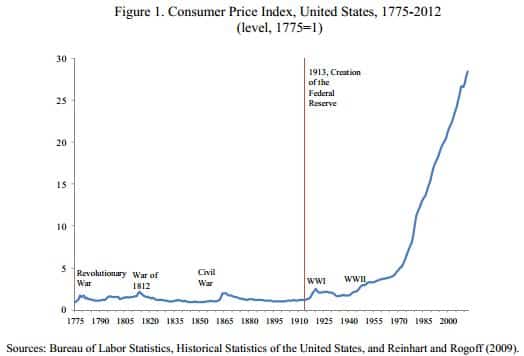 They note that
the early Federal Reserve failed miserably at meeting its initial mandate of financial stability.
And that
not every credit boom ends in crisis but nearly all crises are preceded by credit booms.
Hmm…
(h/t Business Insider via Bob Wenzel.)