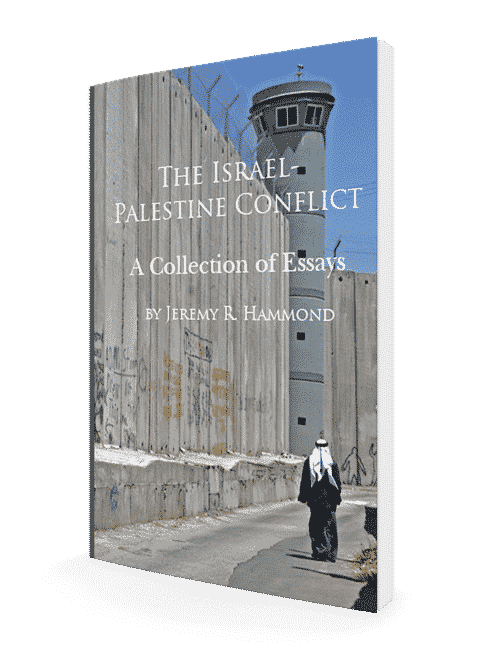 Who is this e-book for?
If you're already active in the struggle for justice in the Middle East, The Israel-Palestine Conflict: A Collection of Essays will help you expand your knowledge to become an even more effective voice for peace.
If you've never taken much interest in the Israel-Palestine conflict but would like to quickly learn to understand its root causes and the reasons for its persistence, this e-book is for you, too.
Everyone can make a difference by helping to educate. It starts with educating yourself and gaining the knowledge needed to communicate effectively and with confidence. Knowledge is power, and the pen is mightier than the sword. Get this free e-book and join the fight.
What's inside?
The Israel-Palestine Conflict contains twelve of Jeremy R. Hammond's best essays on the subject, plus a bonus interview about his newest book, Obstacle to Peace: The US Role in the Israeli-Palestinian Conflict. You'll learn:
Why the popular perception that the conflict is too complicated to resolve is false.
What the leading myths are about the conflict — and the truths they are designed to conceal.
Why the US mainstream media is part of the problem and how it deceives the American public.
How the UN helped spark the conflict, and how the US helps perpetuate it.
And much more!
Contents
The Simplicity of the Israeli-Palestinian Conflict
Top Ten Myths about the Israeli-Palestinian Conflict
Israel's attack on Egypt in June '67 was not 'preemptive'
The Myth of the UN Creation of Israel
Rejoinder to 'IS UN Creation of Israel a Myth? Ask Foreign Policy Journal'
The Demonization of Richard Falk
Israel's Illegal Use of White Phosphorus During 'Operation Cast Lead'
The Role of the UN in Creating the Israeli-Palestinian Conflict
The Path to Peace Lies in Rejecting the 'Peace Process'
Roger Cohen's Racist Opposition to the Palestinian Right of Return
Flawed Reason: Insight via Inconsistency (A review of Ari Shavit's critically acclaimed book My Promised Land)
Netanyahu's 'Flip-Flop' and the Willful Blindness of the Mainstream Media
The US Role in the Israeli-Palestinian Conflict (an interview with the Hampton Institute)
About the Author
What Others Are Saying about Obstacle to Peace
What Others Are Saying about the e-Book
"As I read through your ebook I was delighted to find things not commonly highlighted in the media…. My interest in your scholarly work and prolific writings is simply unstoppable…." — L. Ravas
"I just wanted to thank you for your e-book which I downloaded recently–very informative and very well-written!" — R. Sheety
"Thanks very much for making this book available — it is excellent.  Many thanks for your important work, research, and analysis." — A. Giannantonio
"It's an amazing read. Thank you so much for the gift and for sharing your knowledge. I will use it as a reference on facebook and twitter and in conversations." — P. Judd
"I have read a lot on this history from Hirst to Schlaim, Pappe, Sand, Peled, etc, etc and found you have a great capacity for synthesis and deconstructing the paradoxes and lies." — A. Zarzar