I am completely unsurprised to see the New York Times reporting that:
Health insurance companies across the country are seeking and winning double-digit increases in premiums for some customers, even though one of the biggest objectives of the Obama administration's health care law was to stem the rapid rise in insurance costs for consumers.

Particularly vulnerable to the high rates are small businesses and people who do not have employer-provided insurance and must buy it on their own.
So as Tom Woods headlines it on his blog, "Health Premiums Rise on Those Least Able to Afford It". Indeed. I say I'm not surprised at all by this because it is exactly what I expected would occur, as I have repeatedly told others in my debates over the so-called Patient Protection and Affordable Care Act (ACA), a.k.a., "Obamacare". As I've oft argued, the ACA does nothing at all to actually address the problem of rising health care costs, but only exacerbates the problem by creating perverse incentives.
I also have said that the "solution" that would next be proposed for this would be to impose price controls on the insurance industry. We see clear indications of thinking in that direction in the article:
Critics, like Dave Jones, the California insurance commissioner and one of two health plan regulators in that state, said that without a federal provision giving all regulators the ability to deny excessive rate increases, some insurance companies can raise rates as much as they did before the law was enacted.
So, in the absence of a free market (since the government has legislated it away in health care), government bureaucrats are supposed to just arbitrarily determine what constitutes "excessive" rates, in order to solve problems created by government bureaucrats legislating away a free market in health care.
The Times notes that
The California insurers say they have no choice but to raise premiums if their underlying medical costs have increased…. Many insurance regulators say the high rates are caused by rising health care costs.
Right, increasing costs, which, again, the ACA does nothing to actually address, but only exacerbates (e.g., more people insured means greater demand for care, while the supply of doctors remains the same, resulting in higher costs either in terms of money or the time required to wait to get medical attention).
U.S. monetary policy, foreign policy, and domestic policy all have something in common: if something isn't working, just do more of it.
We can extend the theme (as I suggested in a recent post). In U.S. foreign policy: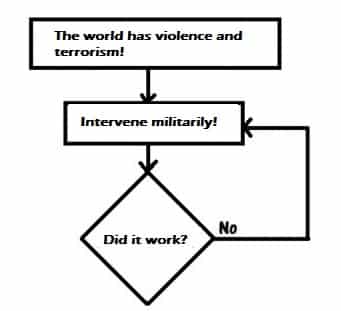 And in domestic policy: