Paul Krugman argues that if only the Obama "stimulus" package had been three times bigger than it was, then it would have worked. If only the government had spent $2.4 trillion instead of a mere $800 billion, then it would have been effective. "All the evidence" says this, he says.
Never mind that the "stimulus" plan was sold to the public on the basis of the argument that without it, unemployment would soar to 8.8%, but with it, it would be kept down at around  7%. Never mind that the "stimulus" package was passed and unemployment proceeded to reach 10%.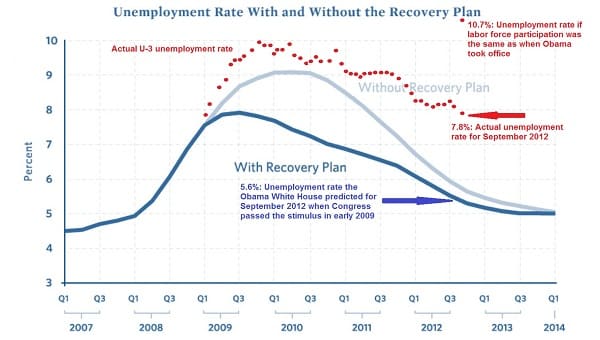 This is just clear evidence that the "stimulus" wasn't nearly big enough, to Paul Krugman. As I wrote in a previous post (see more about the "stimulus" plan there):
This kind of argument is standard for Krugman. He advocates a policy and then, when it doesn't work, he argues that it did work, it's just that things would have been even worse without it. Thus, following the bursting of the dot-com bubble, Krugman wrote that "recessions are not a serious problem for large, modern economies" and prescribed that the Federal Reserve "cut interest rates a couple of percentage points, provide plenty of liquidity, and call me in the morning." That was precisely what the Fed did, and Krugman declared, "Another few shots in the arm like that and talk of recession might well evaporate." But then, despite the rate cuts, the economy still slid into a recession. But instead of acknowledging that he had been wrong, Krugman just argued that the Fed hadn't cut enough, and then advocated the Fed cut long-term interest rates in order to create a housing bubble. And we all know how well that worked out.