More blatant propaganda in the New York Times, this time under the heading "Hezbollah Is Blamed for Attack on Israeli Tourists in Bulgaria". Remember that first Iran was blamed for the attack. Now the story is that it was Hezbollah, operating as a proxy for Iran. The Times states (emphasis added):
American officials on Thursday identified the suicide bomber responsible for a deadly attack on Israeli vacationers here as a member of a Hezbollah cell that was operating in Bulgaria and looking for such targets, corroborating Israel's assertions and making the bombing a new source of tension with Iran.

One senior American official said the current American intelligence assessment was that the bomber, who struck Wednesday, killing five Israelis, had been "acting under broad guidance" to hit Israeli targets when opportunities presented themselves, and that the guidance had been given to Hezbollah, a Lebanese militant group, by Iran, its primary sponsor. Two other American officials confirmed that Hezbollah was behind the bombing, but declined to provide additional details.
Notice the Times' choice of verbs: to "corroborate", to give or represent evidence of the truth of something; and to "confirm", to prove something to be true. So the Times states that it is a proven fact that the bombing was carried out by Hezbollah in the beginning of the article. But further down we read (emphasis added):
The bomber had a fake Michigan driver's license, but there are no indications that he had any connection to the United States, the American official said, adding that there were no details yet about the bomber like his name or nationality. He also declined to describe what specific intelligence — intercepted communications, analysis of the bomber's body parts or other details — that led analysts to conclude that the bomber belonged to Hezbollah.
So the Times basically admits that when it tells readers that it is a fact that Hezbollah carried out the bombings, it is lying; the truth being that neither the two journalists whose names appear in the byline nor the editors actually had seen any evidence—much less proof—to support the U.S.-Israeli claims.
One must also wonder if the bomber had had a fake Iranian I.D. whether the Times would have similarly felt it necessary to assert that "there are no indications that he had any connection to Iran".
Bulgarian investigators, meanwhile, are pursuing leads, and have not indicated that Iran or Hezbollah was behind the bombing:
"We're not pointing the finger in any direction until we know what happened and complete our investigation," Nickolay Mladenov, Bulgaria's foreign minister, said in an interview.
I guess Israel and the U.S. know something about this crime that Bulgaria's law enforcement and intelligence doesn't know. I guess they should share their supposed evidence with Bulgaria.
Here is a still from a security camera at the airport, which Bulgarian authorities say shows the suspect: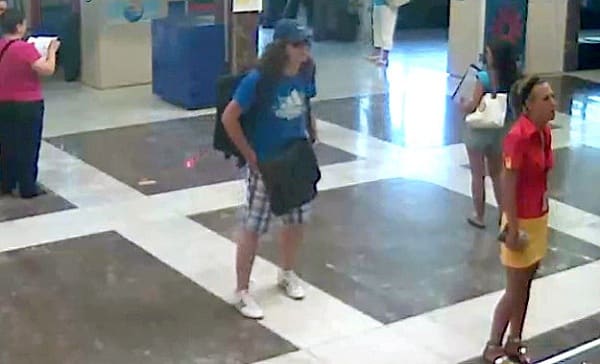 Here's the actual footage:
This guy is obviously a Hezbollah operative, poorly disguised as "just a tourist in his plaid shorts, Adidas T-shirt and baseball hat", as the Times put it. The Times also cited an anonymous Israeli official in asserting the claim that the attack "fit the modus operandi of Hezbollah". Truly, it fits Hezbollah's M.O. perfectly, since Hezbollah has so many times before sent young white dudes dressed as tourists with fake American drivers' licenses to blow themselves up on buses to kill Israelis vacationing in other countries. Clearly, no explanation of the Israeli official's assertion here is required, which must explain why the Times saw fit to offer none.
Let's just wait and see what the actual evidence shows, shall we?